How to capture documents with mobile device on the road
In the last years we have witnessed a increasing popularity of SmartPhone and Tablet accompanied by a wide range of mobile internet connectivity at low cost.

Today it has become obvious, through their mobile phones, you can see the mailbox and be able to browsing on the internet sites of interest. In addition, the ability of the mobile device can be extended at will thanks to the possibility to download and install all of a number of applications, commonly called "App", which allow you to perform the most varied and imaginative activities.

In this contest it is clear that some manufacturers of document management applications were determined to make available for their platforms documentary, add-on more or less sophisticated to allow the consultation of its digital archives by users through the use of these mobile devices.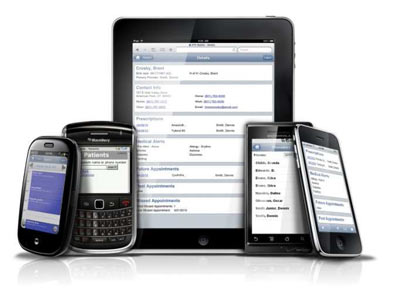 Although you define all SmartPhone or Tablet, depending on the manufacturer, the mobile devices can have a different operating system and / or hardware features not homogeneous, which makes it more complicated the realization of a "App" that you want to function on most models.
Some systems, for example, offer the possibility to make available the documents stored on the internet, which it automatically implies accessibility through the browser on your SmartPhone o del Tablet, although not always optimized for understandable reasons.

Others, however, offer real proprietary App for use on mobile devices, which act as a client for their consultation document platform, optimized because of the type of device for which are available.

In the last case the compatibility is the "Achilles hell" because the hardware manufacturers use a different operative system that make a smartphone or a tablet are often incompatible with each other, required at software developers to create a different applications, one for each platforms to support.

However, many manufacturers of systems for document storage can give the possibility to use a Tablet or SmartPhone on the move to access your document archive , in order to make research more or less complex and to be able to view images of selected documents: everything even when you are away from your office and you have only just inseparable phone.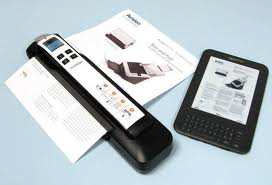 A portable scanner for scan paper documents into mobility without the use of a PC. Definitely a good solution if size and weight, unfortunately higher than those of smartphones and tablet, not a problem.
But what happens if you also have the need to digitize paper documents on the move?

To obtain the objective we are certainly very compact portable document scanners that can perform this task very well: some of the "classic" type, must necessarily be connected to a computer; others work independently storing the images on a memory card which can then be downloaded to your pc; others, real specialized units, integrated within them a small computer with a display touch, system connectivity and specialized software.

Omitting the pros and cons of each solution would seem, however, that we should give up and resign to scan documents on the move if the need is sporadic or if you can not or want to bring back additional hardware, both for logistical and economic reasons.

But it is not so! Most mobile devices integrates the functionality of the camera in fact, that is a small camera that lets you take pictures, so why not exploit it?

In fact if you tried to use their smartphones to do some photo paper documents the results would not be just exciting: distorted images due to perspective distortion, images containing external factors and not just the sheets, images with no uniform illumination due to overhead lights and shadows, blurred or shaky because of the precariousness of the operation. Finally, there would also be the problem of the lack of automation and cumbersome to move these images in your document system remotely.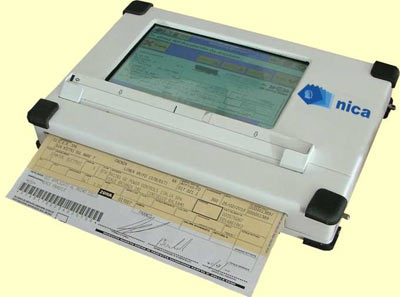 A typical complete mobile device for digitizing documents, a good solution when the acquisition of documents is systematic and when your budget allows anyone to use
To overcome these disadvantages we decided to create what has been called Recogniform Mobile Capture System. It is a document capture system, integrated with any document management platform, consists of a client component that runs on any mobile device with iOS, Android, Blackberry, Windows Phone and Symbian devices, and a server component that runs on the Windows platform.

The client side is basically a specialized App that allows you to take pictures of documents using the camera of SmartPhone or Tablet and send the images to the server via the Internet, possibly accompanied by some customizable metadata that may be useful to the document management system which will eventually images.

The server side is instead a sophisticated image-processing system that is able to cut, automatically, the part that contains the sheet of paper from the entire image, to identify the correct orientation, to correct perspective distortion, to balance the contrast and brightness, to perform any conversion to monochrome with dynamic threshold and finally make available the document, TIF / PDF, along with any metadata, the document management system. A connector can be customized in fact make sure that the documents received and processed by the server end up directly on the document platform, without any manual intervention.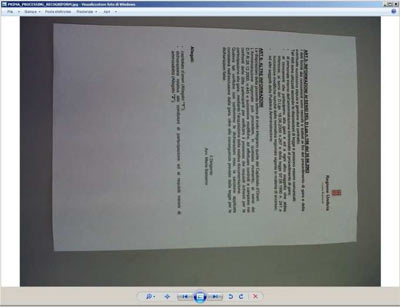 The "original" image of paper document scanned with camera of SmartPhone: The quality is obviously not the same as we are using traditional document scanners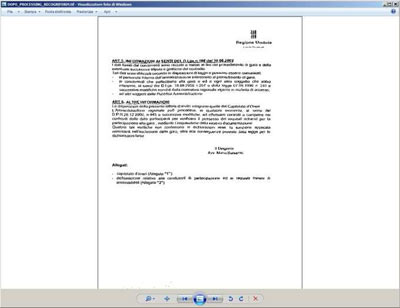 The image of paper document scanned whit camera of SmartPhone, after the process of automatic processing of Recogniform Mobile Capture System: the result is pratically indistinguishable from a typical scan.
Using the experience into digital elaboration of images, Recogniform Technologies is able to take advantage the photographic section of SmarPhone and Tablet so that a document scanner, open the possibility of acquired of paper documents on the road when you are away from your office and you do not have hardware special.